Anal Pudding (Buffalo, NY)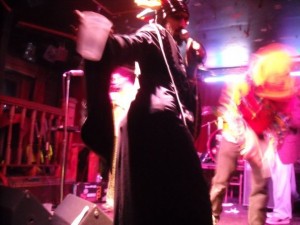 Since 2003, Anal Pudding has been the un-bleachable skid mark in the underpants of Western New York's tighty-whitey music scene. With their potty-mouth sensibilities, P-Funk stage presence, and sleazy intelligence, Anal Pudding has rocked the living crap out of dozens of the Buffalo region's hottest live music venues including The Continental, The Showplace Theatre, Mohawk Place, Club Diablo, Town Ballroom, Tudor Lounge, Merlin's, and the Irish Classical Theatre. Outside of Buffalo, they have been seen in Ann Arbor, MI and NYC's CBGB's Lounge. Anal Pudding is also an annual favorite at such regional festivals as Robby Takac's Music Is Art Festival (2003-2006), the Rhubarb Family Picnic (2004, 2005, 2006), and the Cutting Music Festival (2004, 2005). They have opened for several national acts, including Gogol Bordello, The Human Marvels (featuring Jim Rose Sideshow alumnus The Enigma) and Bozo Porno Circus, and enjoy consistent and popular rotation on Buffalo's 91.3 WBNY FM.
What makes this bastard child of Frank Zappa and Mr. Hankey so popular? Aside from a stage performance that includes costumes, dancers, and props (including a giant three foot tall smoking commode), Anal Pudding also delivers a unique, catchy sound that makes you want to dance, laugh, think, and even gag a little all at once. Many people love Anal Pudding's brand of Funk Punk Potty Rock, many more call it "too sick for human consumption," but one thing is certain – nobody can ignore it. Anal Pudding invades the senses like a first-floor fart on an elevator to the moon.
For more:
myspace.com/analpuddingrocks
June 24th
Barfly, 4062 Saint-Laurent
10 pm, Pay-What-You-Can