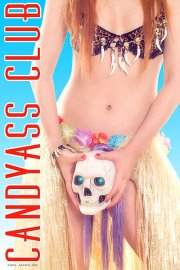 Hawaiian Beach Party night! Shake your tikis! Molotov cocktails! Masks! Smoke Bombs! Police escorts! We go all out for special effects! Its the last Candyass Cabaret of the season till we return in September.
************************************************************************************************
A schmear of delightful sometimes challenging entertainment… for your eyes and ears to feast on. A tasty blend of artists in the heart of the historic entertainment district and the Main. A dab of drag and a bissel of burlesque. Shake your tikis and wear your tackiest tropical shirt its going to be a hot night.
Guizo LaNuit sexy drag king and breaker of ladies hearts is the MC of the evening
The Dead Dolls will misinterpret polynesian dance
Nat King Pole – Drag King extraordinaire !
Delightful burlesque crooner Damiana Dolce
Lady Hoops -sassy and sexy hooper
Diane LaBelle the sublime badass bellydancer
Reena the drag queen will entertain you
Corey and Millie the puppet sing a song of the South Pacific
LIMBO CONTEST! Win incredibly bad prizes in our contest!
Talent! Titties! Toupees!
Get hammered on the Cleopatra Cocktail!! Buy stuff you don't need from our cute cigarette girl.
The DJ will make you shimmy yer booty after the show as only a stripclub DJ can!
Cafe Cleo, 1230 Saint-Laurent Boul(second floor)
June 22, DOORS : 9pm / Showtime 10pm
Admission : $10
CandyassClub
Facebook Page