Saturday, June 7th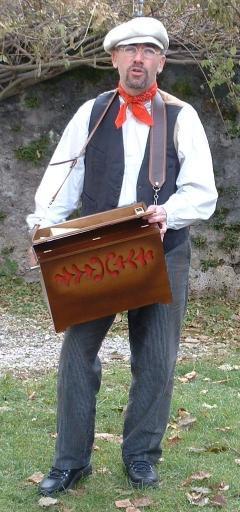 CREVECOEUR (Ardeche, France)
Crevecoeur is a street singer and barrel organ player who lives a few kilometres from Montréal in a small village South of l' Ardeche in France. Passionnate about encounters, for the first time in Quebec, he hopes to share his love of the old French realistic song, where hooligans and street girls intertwine and rip apart to the sound of the accordion.
in the streets

For more than 10 years, les soirées Sourire d'enfant, founded by singer-songwriter Landriault, have come to the aid of families in need. Food collected will be donated to the non-profit organization Les enfants de Béthanie (
), which provides services for children and teens with HIV/AIDS and their families designed to foster a fulfilling environment. A dozen artists will volunteer their time this evening. Help make a child smile!
Le Maître chanteur, 3425 St-Denis, 8:30pm, cover : a non-perishable food item