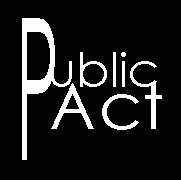 Discussion « Art and activism : towards an esthetic of radicality» hosted by Pauline LeGoïc membre of the Public Act Collective (France)
Observation of a polarized political radicalism that refuses to let artists do art or militants practice politics forces us to reconsider the ways activism fits into contemporary creation. A new way of envisioning artistic activity surpasses too easily integrated and digested forms of "activist art" in favor of an activist concept of creation. The proposed discussion looks at the forms and risks of this radical art that is in direct moral and political conflict with established esthetic values.
Le Maître chanteur, 3425 St-Denis, 7:30pm, no cover
MAX RICARD
Singer-songwriter for more than 10 years, Max Ricard presents a sample of his third album en chantier. Influenced by an alarmist and individualist era, these new songs are worth the reflection of an interior questioning where drama is always next to self-mockery. Musically, the influences are Dylan, Tom Waits and other solitary grumps. Armed with his vocal chords
and a pre-tuned guitar, Max Ricard invites you to discover a universe that disconcerts and inspires him.
Le Maître chanteur, 3425 St-Denis, 9:30pm, no cover
FELIX SOUDE
Folk-trash singer songwriter using the title of chansonnier, Felix Soude throws caution to the wind by giving voice to shocking songs on themes as varied as political apathy, racism and rural exodus. In a playful and direct style, he catapults his diatribes that will make
you laugh or grind your teeth.
Le Maître chanteur, 3425 St-Denis, 10:30pm, no cover