June
Thursday, June 26th
infringement Spoken-Word and Culture-Jamming Film Night
An evening of spoken word performances by Paula Belina, Cassandra Witteman, Laurence Tennebaum and others mixed in with culture jamming videos by Jay Lemieux and Guerillla Video Productions
some performers...
PAULA BELINA
Paula Belina has been performing her spoken poetry since 1998 as well as printed off dozens of chapbooks and 39 issues of her monthly comp-lit-cut&paste zine, Streeteaters, to date. She has won a few slams, has quietly read off typed paper, has collaborated with beatboxers, has continued to move with her own poems. Paula finished her second tour across Canada in September 2006 and made a home in British-Columbia for a year studying clowning and theatre improv. She has attended the Jack Kerouac School of Disembodied Poetics (at Naropa University, Boulder, CO) and has performed in Boulder, Denver, New York, Toronto, Ottawa, Edmonton, Vancouver, Victoria as well as been a part of the Voix D'Amerique spoken word festival in Montreal since 2003.

In 2006, "Paint a City Coat on You, my Wall" was launched as her first full length spoken word CD on the Montreal lable, Take this Hammer. A dedicated stamp carver and self-publishing factory, you can view a collection of her zines & artwork at www.liberatethemarvelous.blogspot.com
LAURENCE TENEBAUM
This is about Laurence Tenebaum.
Of course, Laurence Tenebaum has been terrorizing the Montreal spoken word scene for years.
After a brief hiatus, Laurence Tenebaum is back with a new attack
on the Spoken Word Scene of Montreal
Now armed with More artillery and ammo than before.
It's Laurence Tenebaum!
Les Minots, 3812 St-Laurent, 8pm, no cover
Marie-A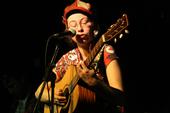 MARIE-A
Le Maître chanteur, 3425 St-Denis, 9pm, no cover, voluntary contribution
ALEXANDRA AND THE HERRINGS
Pioneers of www music : weird, whimsical, wacky. This electro-pop band is formed by Alexandra Delgado aka Queen Herring and her two Herrings-in-waiting Myrrhine Faller and Iris Godbout.
Bar St-Laurent II, 5550 St-Laurent, 9pm
MARKET GARDEN
Come experience market garden's first mission in montreal, we don't believe in MySpace, live only.
Bar St-Laurent II, 5550 St-Laurent, 10pm