June
Thursday, June 19th
SOLILOQUY
Pauline Le Goïc (Rennes, France)
"Soliloquy" is a performative "non-action" in the street. An immovable public crier talks in a megaphone trap and proposes a reflection in a low voice to the passers. It's about the difficulty and the seizure of the voicing of opinions in our societies.
in the streets, Carré St-Louis, around noon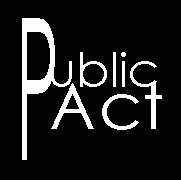 Discussion « Art and activism : towards an esthetic of radicality» hosted by Pauline LeGoïc membre of the Public Act Collective (France)
Observation of a polarized political radicalism that refuses to let artists do art or militants practice politics forces us to reconsider the ways activism fits into contemporary creation. A new way of envisioning artistic activity surpasses too easily integrated and digested forms of "activist art" in favor of an activist concept of creation. The proposed discussion looks at the forms and risks of this radical art that is in direct moral and political conflict with established esthetic values.
The continuation at Le Maître chanteur, 3425 St-Denis, 5pm, no cover
SUBURBAN LAME KIDS
We are a band formed from the remaining members of a Los Angeles crime group known as the Desert Cobras. After a gone bad pizza-shop-to-bank operation most of the gang memebers were either arrested and prosecuted or shot on spot. Both I, Joe and Francis were able to get away seeing as we had been planning to betray Desert Cobra leaders and make off with the bounty for ourselves
Barfly, 4062A St-Laurent, 9pm
OPARLEUR
Their creative adventure started three years ago with a desire to sing out loud the things we usually keep to ourselves. To play for a crowd, to caress the audience. It's like Russian roulette. Separation, war, injustice, kids playing at the table, people getting stuck in the subway… these are some of the themes that give life to their songs. Oparleur is like that little voice inside your head that brings you back to reality. The words come first, the music second. The two brothers write their spicy little tunes as an antidote to life's day-to-day absurdity.
Le Maître chanteur, 3425 St-Denis, 9pm, no cover, voluntary contribution
LES TABERFUCKS, Erie, BC
Either a joke disguised as a band, or a band disguised as a joke.....i can't remember
Barfly, 4062A St-Laurent, 10pm
JUAN SEBASTIAN LAROBINA
In an indefinite place, on the border of several countries, we meet with Juan Sebastian Larobina. This artist is a committed song writer and performer. On stage in quartet, quintet, or septette, the reel and cumbia fuse, chacarera and la gigue marry, the languages are interlaced and tango and the salsa embrace. The NORTE-SUR show invites the public to a spicy artistic experiment, served à la sauce "latino-gaspésienne".
Le Maître chanteur, 3425 St-Denis, 10:30pm, no cover, voluntary contribution
DEAD MESSENGER
Dead messenger combine raunchy heavy, bass driven rock n roll with a refined pop sensibility. Hailing from Montreal these rockin heros of the now infamous Kops Crew are on a mission to save rock and roll from its fat bloated auto rim-job giving self, sparing no one from there hip shakingbone grinding axemenship.
Barfly, 4062A St-Laurent, 11pm