THE BOOT PARTY
The Boot Party (Montréal, Québec)
The Boot Party is our humble tribute to joy and rage, leading us to perpetuate a tradition of cultural resistance, born in South Africa's gold mines under the yoke of Apartheid. Gumboot dance is a response of the workers to fight isolation, a way to communicate with rhythms and without words...
Maison de l'amitié, 120 Duluth East, in two parts, 7:30pm and 11pm
SINKING NEPTUNE
Optative Theatrical Laboratories (Montréal, QC)
Sinking Neptune deconstructs the "first play" ever written in the "New World" - Marc Lescarbot's 1606 "Theatre of Neptune" - and challenges racism and Eurocentricity for le 400e de Quebec.
Maison de l'amitié, 120 Duluth East, 8pm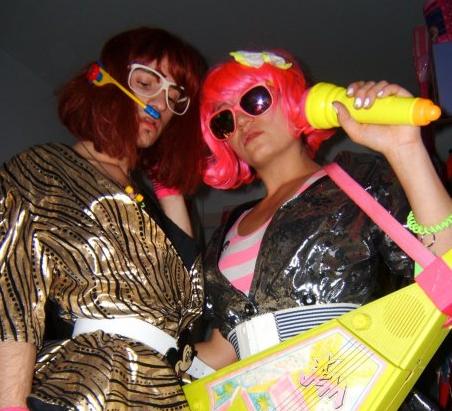 RONI
After eleven frustrating years in various musical projects, Roni Mizrahi decided to make a gameboy his main bandmate, because it can follow instructions and won't puke much if he tries to make it play Mariah Carey.
Barfly, 4062A St-Laurent, 9pm, no cover
FRANCINE CHRISTIE
Poetics of the interior voyage, in the blue of Latin blues tangled in the history of our lives. Here's what I write, here's what I sing.
Le Maître chanteur, 3425 St-Denis, 9pm, no cover, voluntary contribution
HOOLA VACHE
Francine and Ginette invite you on a crazy ride that will make you dizzy. These adventurous bandits straight out of the depths of America, expertsin the art of booty trapping, will enlace the crowd with their charms. Every trick worth trying is in this rush for liberty. The epic western of two cow girls, Hoola Vache! is a show mixing clowning, hoola hoop and acrobatics!
Maison de l'amitié, 120 Duluth East, 9:30pm
IT IS BETTER TO RIDE THE DUNG BEETLE THAN IT IS TO TREAD ON SOFT CARPET
Lucy Hutson (UK)
My performance is is not about re-telling a story but creating an experience which we share together. I wish to explore the intersections where we all collide, where I meet you and where we meet them. This performance is a surreal adventure which involves one woman, one washing line and one pair of used long johns.
Maison de l'amitié, 120 Duluth East, 10pm
NOIA
Barfly, 4062A St-Laurent, 10pm, no cover
MARIE TRESANINI
Marie, young singer-songwriter, takes us to a universe where poetry, humor and sensuality blend together. In good spirit, this actress slowly reveals herself through many characters...like the coquine, who confesses her secrets from her bed, or like the famous free lover that tells us of her misadventures. She can also touch us with more socially aware texts or wrap us in sensuality. Her casual universe is also inspired by flamenco.
Le Maître chanteur, 3425 St-Denis, 10:30pm, no cover, voluntary contribution